Hi. I'm Rebecca from the UK. I've been drooling over the beautiful stitching on the blog from afar for a looooooong time, and the Stitching Bandits challenge has arrived at exactly the right time to give me a kick up the bum with my own Chatelaine stitching, so thanks to Joysze for letting me join in the fun!
I'm picking up Greek Mandala after about 18 months
I've still got a long way to go!
I've got Tuscany Town all done bar the border.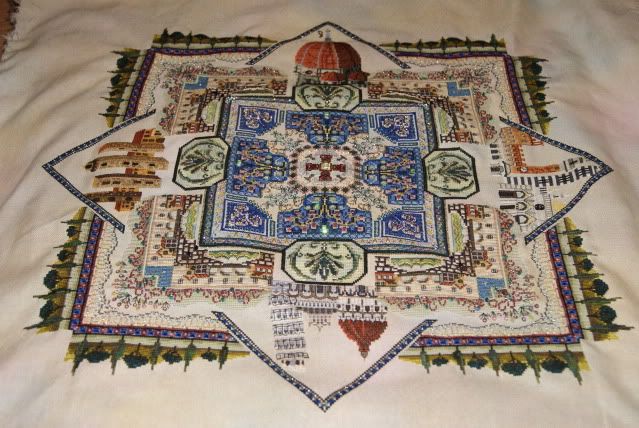 This would actually be a much quicker finish... If only I wasn't so easily distracted!
I have the Stitching Leporello all stitched but not yet made up.
And - here's the best bit - my DH made the mistake this week of saying "I can't help it if my hobby (photography) is more expensive than yours...". Is it just me or does that sound like a dare? I'm looking to my future and can see full kits for White Nights, Persian Iris, Moss Garden.... all silks, hand dyed fabbys, no subbing.... this could be fun!
Looking forward to watching all your lovely stitches grow.